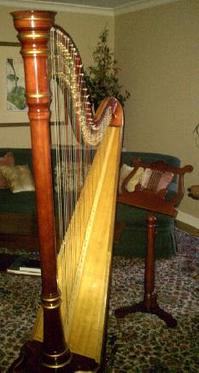 I am available for parties, weddings, funerals/memorials, bedside/therapeutic music and concerts. There is a
brochure
available as well.
There are two main harps that I use for performing (depending upon the venue and purpose). To the left is a picture of my pedal harp, a Venus Seraphim (made in Chicago). It is a rich mahogany wood with bronze highlights and a rich tone.
The other is a DragonHeart lever instrument made by my friends at Heartland Harps (North Carolina, see the photo on my 'Schedule' page). This one has an amazing voice for a smaller (more portable) instrument.
Contact me for more information, booking possibilities and rates (or see the brochure).
---
Sheet Music for sale:


Fairy Danse

This is the original solo harp version of the Fairy Danse that was recorded on the Circle of Seasons CD and my Above the Clouds CD.
I consider it Intermediate level and playable on all harps (no lever changes).
I am asking $5.00 for it. I will email it to you when I receive the request.
Thanks


---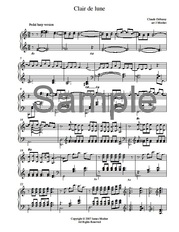 Clair de lune
After my mother mentioned that this piano piece by Debussy was one of her favorite pieces, I decided to create a harp edition I could play. There are now two versions, one for lever harp
(click here to see a sample page of the lever version)
with multiple changes and one for pedal harp.
---