This is the new CD. (The purchase button is above)
In the Winter Dark is a mix of traditional and non-traditional Yule/Winter Carols. It is available for purchase. CD Baby (click on the name to go there) has it listed and you can download MP3s via Amazon, iTunes or your favorite service.
Topeka release party will be at Manning Music, 7:30pm on Wednesday, December 23. Poster to follow. Here is the Facebook event page: https://www.facebook.com/events/527308597435096/
There will be a release and signing party at Aquarius Books in Kansas City on December 14, 7 pm.

Whether you celebrate Yule, Christmas, Chanukah or any of the other winter "light" holidays, you realize it is a time for introspection and quietude. Alone time is important, almost as important as celebrating these times with others.
I, personally, focus on the Pagan and Christian aspects since that is my society and tradition. This collection is a representation of that eclectic background. From the quiet of a snow covered hillside to the roaring fire of a friend's hearth, this album represents my wish for a bright and happy holiday season, how ever you celebrate.
I will forewarn you that my voice is not as good as it should be. I was dealing with heavy allergies, followed by an infection on my vocal chords. By the time these songs were recorded, the infection was gone but the voice had not yet healed. There is a husky, smoky, almost lounge singer quality here.
Here are some thoughts about the various songs (Titles are linked to clips from each selection):

Evening song, Steve Clark* (3:47)

Steve is one of the founding members of the Castle & Cross Consort, my early music ensemble. We also have CDs available from CD Baby. This haunting tune is reminiscent of high country Alps. Played on harp and tone chimes (a variation of hand bells), Steve dedicated to Sister Mary Corita Conlan, SCL (Sisters of Charity, Leavenworth), a long time friend who passed before she could hear this wonderful piece.

Abbot's Bromley horn dance, Traditional, arr J Mosher* (3:07)

An English folk dance dating back to the Middle Ages. Still observed every year in Abbots Bromley, a village in Staffordshire, England. I am delighted to have the Castle & Cross join me for this piece. We had great fun planning the recorder and bowed psaltry parts.

Holly and the ivy, Traditional, arr Barbara Semmann (2:06)

An early English folk carol which shows the connection of the Christian and Pagan traditions.

Away in a manger, Traditional, arr Christopher Small & J Mosher*$ (2:13)

A lovely rendition of the tune that is also used for "Flow gently sweet Afton." A hearty thank you goes out the Christopher Small for this arrangement. Originally for two guitars, it makes a wonderful addition to the harp/recorder repertoire. Donna Mealy joins us on violin for a lovely obbligato.

Christmas dinner, Noel Paul Stookey (NEWORLD MM Pub. ASCAP) (3:56)

Recorded first in 1969 on "Peter, Paul and Mommy" this song tells the story of what this season is truly about, love and caring. I came to love this piece long before taking up the harp. Normally played on guitar and voice I was never sure just how it would translate to harp until I tried. Now I am happy.


In the bleak mid-winter, Gustav Holst, arr Sunita Stanislow & J Mosher* (4:24)

This carol is based on a poem by the English poet Christina Rossetti written before 1872. Holst's setting appeared in 1907. I have combined recorders playing Holst's version and a four part rendition by Steve with the beautiful harp solo by Sunita. It is a magical blending of styles.

Tanner's Wassail, Traditional, arr Harper Tasche & J Mosher* (2:51)

This is one of the many versions of a wassail. The word refers both to the salute 'Waes Hail' (to your health) and to the drink of wassail, a hot mulled cider traditionally drunk as an integral part of wassailing, a medieval southern English drinking ritual intended to ensure a good cider apple harvest the following year. I had not heard of this Wassail until Harper shared his arrangement. We took it and ran with great gusto.

In the winter dark, Stella Benson (4:34)

Based on a simple tune which was written after the death of her brother, the majority of this tune is improvised and changes each time it is played. Stella's haunting tribute to her brother is a perfect example of the lonely, introspective quality of this season. I can imagine standing beside the tree on the cover in deep meditation as the wind blows.

Winter solstice song, Elat Ophidia Anna Alekner, arr J Mosher* (3:17)

Winter Solstice is the longest night, the time that Pagan's celebrate the rebirth of the Sun God. I don't remember where or when I first was introduced to this piece, but it is now a favorite for Yule. This is one of the pieces I sing while the sun is rising after the longest night.

Huron carol, Traditional arr J Mosher* (2:52)

A Canadian Christmas carol, written probably in 1642 by Jean de Brébeuf, a Jesuit missionary.

Celtic carol, Traditional, arr Sharon Thormahlen & J Mosher (4:25)

An Austrian carol, "Die Hirten Auf Dem Felde", which tells the story of the Nativity from the point of view of the shepherds. This is such a lovely piece that I play it all year long. Through the wonders of recording technology I can play a trio with myself (oboe, English horn and harp).

Still, still, still, Traditional, arr RoJean Loucks (2:53)

Another Austrian carol who's melody is a folk tune (authorship unknown) from the State of Salzburg. The tune appeared for the first time in 1865. My friend, RoJean, has graced us once again with a delightful lullaby.

Les fenêtres de Paris, Wm Mahan, arr J Mosher (3:33)

Translates as "The windows of Paris" this piece is quite visual for me, seeing lights streaming out of the windows onto freshly fallen snow in middle-of-the-night Paris.

Silent night, Franz Gruber, arr S Clark* (2:38)

One of the most familiar of the German carols, first performed in 1818. The Castle & Cross join me once again for this arrangement (which was originally for handbells) where we mix bells, recorders and the harp.

Miss Fogarty's Christmas cake, C. Frank Horn, arr J Mosher* (4:51)

Original sheet music resides in the Library of Congress sheet music archives, a delightful song bemoaning the attempt at a Christmas fruitcake. (Note: Brogans are shoes) I have to thank my friend Pamela Bruner for introducing me to this piece. These humorous songs lift the spirits and make the long nights not quite so long.

Total run time 51:27
* with Castle & Cross Consort
$ with Donna Mealy, violin
Jim Mosher: Harp, Recorders, Oboe, English horn, Bells, Voice
Steve Clark (Consort): Recorders, Bells, Percussion
Gitta Gronewaller (Consort): Recorders, Bowed psaltery, Bells
Jane Kerns (Consort): Recorders, Harp
Donna Mealy: Violin
Recorded at Exceptions Studio, Topeka Kansas. Randy Wills, recording tech.
Cover photo: "Snowy Moon", Jack Brauer, photographer (you may see more of his work at mountainphotography-dot-com)

---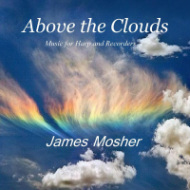 My CD "Above the Clouds" was released in 2011. This is an eclectic mix of my some of my favorite pieces, played on harp and recorders. All parts were played by me and I recorded/produced this album in the privacy of my own home.



---
The musical selections are (click on the title for a sample of the piece):
Olivia's Song
(by RoJean Loucks - visit
RoJean's site
)
Salina (Kansas) harper RoJean Loucks has many pieces available (at www.roharps.com) including this delightful 'music box' written for her granddaughter. This can be found in her book "Reflections."
Planxty Merlin
(by Joanna Mell - visit
Joanna's site
)
An Irish "planxty" is a piece written in honor (or memory) of a particular person. In this case Merlin, a helper dog (a Sheltie), who was a faithful and loving companion before his passing. It can be found in her book "Ginger's Little Harp Book."
Mary, young and fair
(traditional Scottish love song)
Harper's frolic/Kemp's jig
(a couple of traditional dances)
Annwvyn
"The mystical otherworld" (by Christina Tourin - visit
Christina's site
)
Of Annwvyn Christina says "This tune came to me after going to King Arthur's Labyrinth while visiting Wales. This and many other pieces can be found in "Illuminations: Healing music for harp or piano."
Fairy Danse
(by me)
This music box waltz came to me one day while sitting beside my lily pond. The fairy lights came to dance as I played.
Forest Stroll
(by Pamela Bruner - visit
Pamela's site
)
Having collaborated with Pamela on several CDs, Forest Stroll, found in her book "Midsummer Meadow," remains one of my all time favorites.
Mouse Pye
(by Steve Clark)**
It is a great pleasure to play with Steve in the Castle & Cross Consort. He regularly brings new pieces for us to play. This one is a depiction of mice discovering pies leftover after a party.
Royal dream
(another traditional dance)
Twilight
(by Meg Robinson - visit
Meg's site
)
Meg Robinson (www.megrobinsonmusic.com) has created a work which is as peaceful as that magical time of day. Her music is published by Afghan Press.
Emma's Lullaby
(another by Joanna Mell)
Another gem from "Ginger's" book, this is a final goodbye to a four-legged friend and long time companion.
Above the Clouds
(by Frank Voltz - visit
Frank's site
)
This sublime piece says it all. That magical place we all yearn for is "Above the Clouds" but also within.
**Steve plays in the
Castle & Cross Consort
with me and does not have a website. However, the Consort does have two CDs of our own on CD Baby with more of his music recorded. Please stop by and check out these at some point. Steve does have some photos on
Flickr
. Check them out.
It is available on
CD Baby
or from me in person.
With CD Baby you can use PayPal or Credit Card, buy a physical disc or download individual songs or the entire CD.
CDs from me are $15 a piece (plus shipping and tax).
Order form
can be found here
. I am set up with PayPal but I am still learning how the new server and web creator work. In the meantime feel free to use jim (at) harperbear.com to send money. If you are outside the continental US, please use shipping rate of $13.20 (current International rate for USPS Priority Mail). Kansas residents please remember to add 9.15% sales tax.
Other CDs include: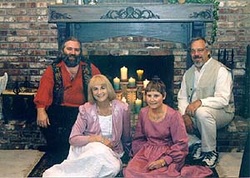 Castle & Cross Consort

---
The Stoney Path


Our second CD (released originally as a tape) includes beautiful and ancient dances, pavanes, canzons and galliards of the Renaissance, and the familiar Greensleeves.

"The Stoney Path" is a must-have for fans of this long-established consort! These are charming Renaissance treasures, artfully performed on recorders, harp, krumhorns, and the fascinating, rarely-heard medieval hurdy-gurdy.

Tracks

1. Bonny Sweet Robin

2. Earle of Salisbury Galiardo

3. Noel's Galliard

4. J'ay tant bon credit

5. Hey, ho! To the Greenwood

6. Pavane de la Guerre & Galliard de la Guerre

7. The Donkey Carol

8. The Nightingale

9. S'on me regarde

10. Canzon

11. Come Ye Down, Merrie Mary

12. Flos Filius Eius

13. Coragon triste, sofrid

14. Galliard, Pavane & Corranta

15.

The Stoney Path

16. Nous voyons que les hommes

17. Virgo Sancta Katherina

18. Fair Phyllis I Saw Sitting All ALone

19. Pase elagoa, ma Julieta, dama

20. Spanish Pavan

21. Greensleeves

22. Somebody / Brian Boru

---

A Circle of Seasons

This album is a real "year-around treasure!" Whatever season, you can find music to compliment it, here.

The spring numbers are mostly romantic love songs from the 16th century. They conjure up images of "fair maidens'" and "dashing lords." The summer songs are carefree and sunny and mostly from the twentieth century.

The autumn group highlights music by Consort member, James Mosher: a delicate "Fairy danse," and another piece by Clark, the lively "Arundel Castle."

Winter songs sing of holiday merriment and festivities and include favorite carols, like "Silent Night" and "I Saw Three Ships," among others. The unique variety of music makes this a must-have album for Consort connoisseurs and everyone who likes delightfully pure tones, fine nuance and jovial style. Wonderfully pleasing, relaxing and enjoyable!

Tracks

1. Coletta

2. In These Delightful, Pleasant Groves

3. April Is My Mistress' Face

4.

Now Is the Month of Maying

5. I Know a Young Maiden Wondrous Fair

6. Morir Non Puo'l Mio Core

7. Gay Little Nymph

8. Fair Phyllis I Saw Sitting All Alone

9. The Bright Sun

10. Four Miniature Dances: Why Granmaw?

11. Four Miniature Dances: Hide and Seek

12. Four Miniature Dances: Cloud Shadows

13. Four Miniature Dances: First Love

14. Rendsburger Dance 1

15. Rendsburger Dance 2

16. Rendsburger Dance 3

17. Rendsburger Dance 4

18. Rendsburger Dance 5

19. Rendsburger Dance 6

20. Arundel Castle

21. Io Mi Son Giovinetta

22. Vray Dieu D'amours

23. Fairy Danse

24. Serenade in C

25. Ukranian Carol

26. I Wonder As I Wander

27. Sussex Carol / I Saw Three Ships

28. What Is That Lovely Fragrance? 1

29. Joseph, Lieber Joseph Mein

30. Sans Day Carol / the Holly and the Ivy

31. Greensleeves

32. Silent Night (plus a 'secret' track)

---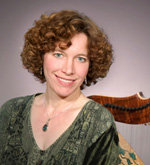 CDs I've been fortunate to have helped Pamela Bruner record:
I play winds (Flute, Oboe, English horn, Recorders, Pennywhistle & even sing on "Irish Journeys") Titles in black are linked to a sample. Click on them to listen.

---