This is where you will find me (should you wish to do so):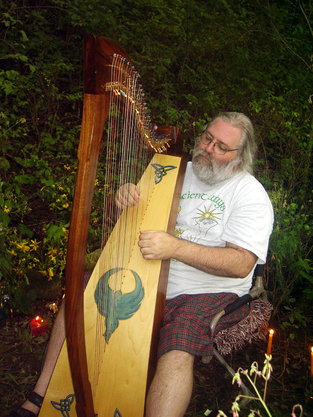 Playing for a wedding during 2005 Festival of Tara
Most Every Wednesday afternoon around 3pm, I can be found at Midland Care in Topeka. Of course there are times when I am not able to be there for one reason or another. Feel free to drop by and chat. Keep in mind though I am there for the patients and families.
Southern Hills Mennonite Church
Raise the Roof in Song
February 18, 4pm
This is a benefit for Mennonite Disaster Service which goes into areas after disasters and, through volunteers, repairs or rebuilds homes. Our region of volunteers has been stretched thin through the needs after both hurricanes and tornadoes and needs funds for the supplies used building so many structures.
Update: Thanks to everyone who participated and attended (and spent) they were able to raise just over $5,000. Plus a good time was had by all!
Renaissance Faire of the Ozarks
April 21 & 22, 2018
Silom Springs Arkansas
For more information and tickets visit their website:
www.renfairozarks.com
Harpists for Peace event
To be announced
---