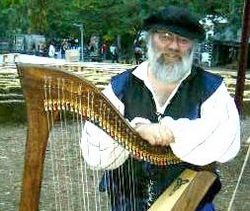 Greetings!
I am HarperBear (aka Chiron the Bard - aka Jim Mosher). This journey has been long in coming and I am delighted that you want to share a part of it with me. Please bear with me (pun intended) as this site develops.
Whether you are looking for a harper/harpist to play background music for a party or other celebration or a soloist for a recital or performance, I am here to provide for all your needs.
I specialize in Celtic and Relaxation forms of music but play a much wider variety. My abilities are not limited to harp either, they include voice, oboe, English horn, recorder and many other instruments.
The photo at the top of this pages was taken at Joplin MO during a Renaissance Festival. The bear dancing to my music is Byron T Bear. You have heard how music can soothe the savage beast, well this is the proof. (OK, this is really a man in a very good bear suit, but you get the idea.)
I look forward to hearing from you.
bard@harperbear.com
---