Topeka Woodwind Quintet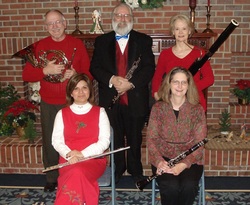 Organized in 1982 (doesn't seem that long), the Topeka Woodwind Quintet has been performing at local venues, both public and private. Our repertoire ranges from Celtic traditional to Classical and some modern pieces.
This grouping is the traditional Classical ensemble of (front row) Flute/Piccolo, played by Sylvia Klingbeil; Clarinet, Stephanie Reynolds; (back row) French Horn, Clifford Manning; Oboe/English horn, Jim Mosher (me), and Bassoon, Ginger Patterson.
Call or email me (harperbear@att.net) for booking and availability information.
---
Castle & Cross Consort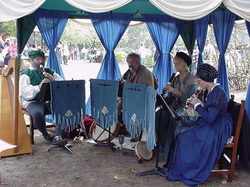 The Consort isn't quite as 'old' as the Quintet, but it's close, 1984 I believe. We have performed at the Kansas City Renaissance Festival for a number of years but had to stop due to other obligations. We have as wide, if not more so, a range of musical selections as the Quintet; including a number of original works by Steve Clark and myself.
We also have two CDs available on my Recordings page
.
The members are: (left to right) Myself, Steve Clark, Gitta Gronewaller and Jane Kerns.
We did not disband as was previously mentioned, but have reorganized. Steve has retired from the group and we have added Mark Rustman, long time friend and music cohort with the Topeka Symphony. He is already fitting in well and we look forward to many events with him.
---
Enchanted Willow Alchemy Shoppe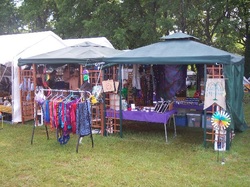 The 'Willow' was once a Topeka staple. We began originally with the idea of having a booth at the KC Renaissance Festival, then we realized how expensive it was to open a booth there. So we began selling online and opened an actual storefront. Some of you may remember those sites.
Several years ago, when the storefront closed, we lost the rights to our website too.
Good news is that we're back. The store address is 2209 SW Gage Blvd (across the street from the VA in Topeka). Stop by sometime.
Our website is no currently up and running, but we are working on it. The old phone is no longer in service either, but you can reach us at our new number: 785-220-9593.

---